Services


ALEMAN BELLO S.A.S., based on the experience it has acquired in building projects, has specialized in managing each and every stage involved in a project, from pre-feasibility to final implementation, adapting perfectly to the project's scope and the client's requirements.
The following are the services provided by ALEMAN BELLO S.A.S.
CIVIL ENGINEERING PROJECTS: Infrastructure projects for wells, accessories, drilling platforms, mud pools, camp areas, landing strip and other works.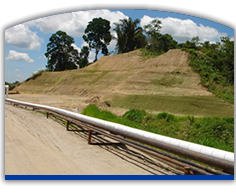 – Foundations
– Concrete structures
– Construction and/or Upgrading of Roads (Construction of Sites for Oil Well Drilling)
– Rigid and flexible paving
– Artworks
– Contention walls
– Irrigation channels
– Works maintenance
– Recovery of hillsides from cutting and filling by the hydro-planting method